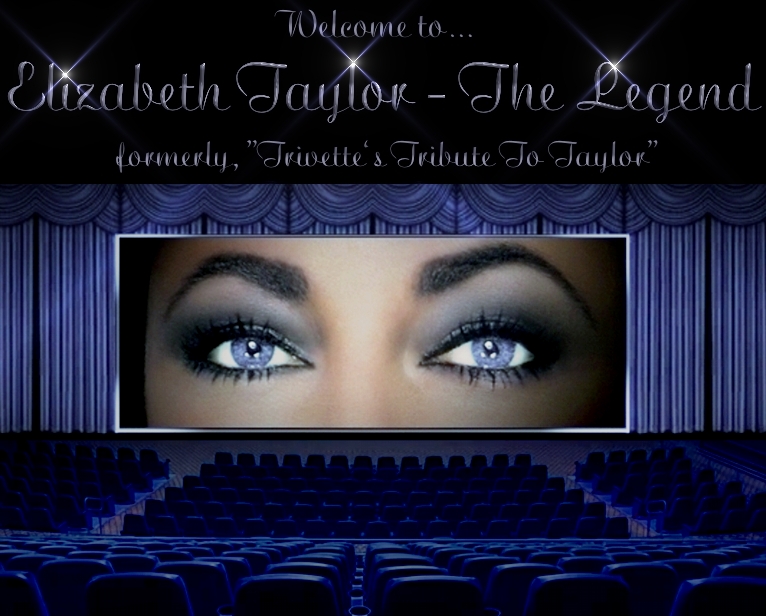 These are the pages for the Allan Trivette collection of Elizabeth Taylor memorabilia. Within them, you will find an ever-increasing number of images selected from it.
One Saturday afternoon when I was a little boy, my mother took me to the "Saturday afternoon babysitter"...the movies. While there to see some long-forgotten film, an image appeared on the screen that changed my life forever. As usual, after the movie, there were "trailers" for upcoming attractions. A fanfare of horns, followed by the undulating and exotic melodies of ancient Egypt, heralded the arrival of Queen Cleopatra. There before me, seemingly a hundred feet high, was the face of our time, (of ALL time, in my opinion). Adorned in the splendor and regalia of an ancient Egyptian queen was the face of Elizabeth Taylor. From that moment, to this very day, I have been under the spell of the most luminous, glamorous, ethereally beautiful woman to ever grace the screen.
During the ensuing years, I have acquired what is widely regarded as one of the most important collections of Taylor memorabilia in the world. While it would be nice to post all the items on the following pages, space and time (yours and mine) prevent it. On an irregular basis, new additions will be posted, so please check back often.
Dame Elizabeth Taylor provided the public with untold hours of entertainment throughout her life and career. And, for decades, she used her name and fame to help make this a better world for countless people. As a way of saying "Thank you!", please consider a donation as generous as possible to the Elizabeth Taylor AIDS Foundation. Dame Elizabeth's estate completely underwrties the foundation so every cent of your donation goes directly to those in desperate need. I know she would greatly appreciate your generosity.




The Elizabeth Taylor Aids Foundation
c/o Derrick Lee
Reeback Lee & Company, Inc.
1990 South Bundy Drive, Suite 700
Los Angeles, California 90025

or, visit the E.T.A.F. website at:
http://elizabethtayloraidsfoundation.org/

Correspondence can be sent to:
The Elizabeth Taylor AIDS Foundation
P.O. Box 55995
Sherman Oaks, CA 91413


This website is not, in any way, connected to Dame Elizabeth personally.
Thank you so much for visiting.
Now, find a seat, dim the lights, and "enjoy the show".